Manuscript of Mozart's Piano Sonata K331 Discovered in Budapest in 2014
Tuesday, November 2, 2021 by Mary O'Connor | history
The manuscript of Mozart's A major piano sonata K331 has recently been discovered in Budapest. Having spent the majority of its life in the Budapest's National Széchényi Library for decades, the coveted manuscript was rediscovered by Haydn scholar Balazs Mikusi.
"When I first laid eyes upon the manuscript, the handwriting already looked suspiciously 'Mozartish'," said Mikusi, who is the head of the music collection at National Szechenyi Library. "Then I started reading the notes, and realised it is the famous A Major sonata ... My heart rate shot up."
The piece was composed in 1783 and contains Mozart's most popular jam, "Turkish March," which has become a piano lesson staple all over the world.
Although, unfortunately, Mikusi can't say how or when these pages found their way to Hungary; they reveal subtle differences from the published editions of the sonata. The key variances are seen in the phrasing, dynamics and occasionally the notes themselves.
"It is very rare that a Mozart manuscript pops up. Moreover the A Major Sonata had no known manuscript, so it is a really big discovery," he said.
The library has only released teasing images of the manuscript, nothing more.
From Manuscript of Mozart's Piano Sonata K331 Discovered in Budapest's National Széchényi Library : Classical : Classicalite.
The whole sonata:
Happy Birthday to Franz Liszt!
Friday, October 22, 2021 by Mary O'Connor | history
Franz Liszt was born in Raiding, near Ödenburg, October 22, 1811 and died in Bayreuth, July 31, 1886. He was a Hungarian composer and pianist who was a major influence during the romantic period. Liszt was an outstanding pianist at seven, composed at eight and made concert appearances at nine. In addition to being a piano virtuoso, he was also a critic, conductor, city music director, literary writer and transcriber of the works of other composers. He transcribed Beethoven's Symphonies for the piano.

Franz Liszt began his career as the outstanding concert pianist of the century, who, along with the prodigious violinist Niccoló Paganini (1782-1840), created the cult of the modern instrumental virtuoso. To show off his phenomenal and unprecedented technique, Liszt composed a great deal of music designed specifically for this purpose, resulting in a vast amount of piano literature laden with dazzling, and other technical marvels. In this vein, Liszt composed a series of virtuosic rhapsodies on Hungarian gypsy melodies, the best-known being the all too familiar Hungarian Rhapsody no. 2. Liszt developed the rhapsody as a form of serious music. This kind of music is worlds apart from the generally more introspective, poetic music of pianist-composer Frédéric Chopin.

Liszt was wildly handsome and hugely talented. He was extremely popular in Paris during the 1830's. It is said that women actually fainted at his piano recitals. He was the first to position the piano so that its lid reflected the sound and the audience could see his profile as he performed.

Liszt was the first to write a tone poem, which is an extended, single-movement work for orchestra, inspired by paintings, plays, poems or other literary or visual works, and attempting to convey the ideas expressed in those media through music. Such a work is Les Préludes, based on a poem in which life is expressed as a series of struggles, passions, and mysteries, all serving as a mere prelude to . . .what? The Romantic genre of the symphonic poem, as well as its cousin the concert overture, became very attractive to many later composers, including Saint-Saëns, Tchaikovsky, Dvorák, Sibelius, and Richard Strauss.
Listen to Liszt's transcription of Meyerbeer's Hellish Waltz from Robert du Diable, which probably caused more public commotion than any other piano piece in history.
Read quotes by and about Liszt
Liszt was the first recitalist
In Praise of Pianos and the Artists Who Play Them
Happy Birthday, Vladimir Horowitz!
Tuesday, October 1, 2019 by Mary O'Connor | history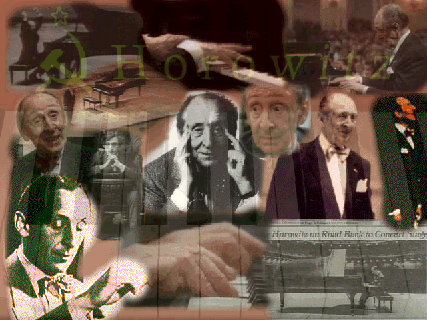 Destined to become one of the world's greatest pianists, Vladimir Horowitz was born in 1903 in Kiev, Russia. While most young children were playing games, Vladimir was playing with the ivories. His time was well spent as he was fully capable of performing publicly by the time he was sixteen.
Within four years, the young piano virtuoso was entertaining audiences at recitals throughout Leningrad - 23 performances in one year, where he played over 200 different works of music, never repeating a composition. After Leningrad, Horowitz played in concerts in Berlin, Hamburg and Paris.
In 1928, the Russian pianist traveled to the United States to play with the New York Philharmonic Orchestra at Carnegie Hall. Arturo Toscanini chose Horowitz to perform his first solo with the New York Philharmonic. It was there that Horowitz met his bride-to-be, Toscanini's daughter, Wanda. The two were wed in Milan in 1933. New York became Horowitz' permanent home in 1940. He became a U.S. citizen a few years later, devoting the rest of his career to benefit performances, and helping young, aspiring artists.
His return to the concert stage in May of 1965 was a triumphant success, as was his television recital, Vladimir Horowitz at Carnegie Hall.
Just three years before his death, Vladimir Horowitz returned to his homeland to perform once again for the Russian people on April 20, 1986. They felt he had been away far too long ... close to sixty years.

anniversary of Horowitz's death