Manuscript of Mozart's Piano Sonata K331 Discovered in Budapest in 2014
Friday, November 2, 2018 by Mary O'Connor | history
The manuscript of Mozart's A major piano sonata K331 has recently been discovered in Budapest. Having spent the majority of its life in the Budapest's National Széchényi Library for decades, the coveted manuscript was rediscovered by Haydn scholar Balazs Mikusi.
"When I first laid eyes upon the manuscript, the handwriting already looked suspiciously 'Mozartish'," said Mikusi, who is the head of the music collection at National Szechenyi Library. "Then I started reading the notes, and realised it is the famous A Major sonata ... My heart rate shot up."
The piece was composed in 1783 and contains Mozart's most popular jam, "Turkish March," which has become a piano lesson staple all over the world.
Although, unfortunately, Mikusi can't say how or when these pages found their way to Hungary; they reveal subtle differences from the published editions of the sonata. The key variances are seen in the phrasing, dynamics and occasionally the notes themselves.
"It is very rare that a Mozart manuscript pops up. Moreover the A Major Sonata had no known manuscript, so it is a really big discovery," he said.
The library has only released teasing images of the manuscript, nothing more.
From Manuscript of Mozart's Piano Sonata K331 Discovered in Budapest's National Széchényi Library : Classical : Classicalite.
The whole sonata:
Piano Lessons from the Past
Thursday, October 25, 2018 by Mary O'Connor | history
Looks a bit different than today's lessons!
This photograph was taken in 1899, and shows a young girl taking Piano Lessons. When I was a little kid, they made everyone take piano lessons. Yep, I had to take piano lessons . . . I really do not know why. I did try pretty hard, but I could never make any progress. You see, I could only think about one finger at a time. When it got to the part where lots of different fingers had to be doing different things at the same time, that is where I had lots of trouble. Anyway, after a couple of months, the teacher politely told my parents that they were wasting their money on the lessons, that I was not going to be a piano player.
Happy Birthday, Vladimir Horowitz!
Monday, October 1, 2018 by Mary O'Connor | history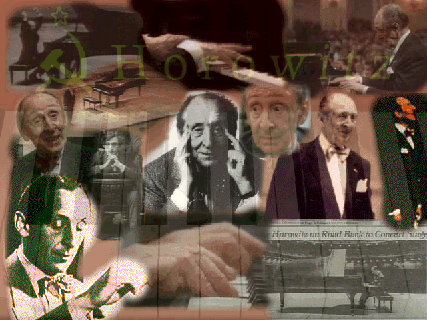 Destined to become one of the world's greatest pianists, Vladimir Horowitz was born in 1903 in Kiev, Russia. While most young children were playing games, Vladimir was playing with the ivories. His time was well spent as he was fully capable of performing publicly by the time he was sixteen.
Within four years, the young piano virtuoso was entertaining audiences at recitals throughout Leningrad - 23 performances in one year, where he played over 200 different works of music, never repeating a composition. After Leningrad, Horowitz played in concerts in Berlin, Hamburg and Paris.
In 1928, the Russian pianist traveled to the United States to play with the New York Philharmonic Orchestra at Carnegie Hall. Arturo Toscanini chose Horowitz to perform his first solo with the New York Philharmonic. It was there that Horowitz met his bride-to-be, Toscanini's daughter, Wanda. The two were wed in Milan in 1933. New York became Horowitz' permanent home in 1940. He became a U.S. citizen a few years later, devoting the rest of his career to benefit performances, and helping young, aspiring artists.
His return to the concert stage in May of 1965 was a triumphant success, as was his television recital, Vladimir Horowitz at Carnegie Hall.
Just three years before his death, Vladimir Horowitz returned to his homeland to perform once again for the Russian people on April 20, 1986. They felt he had been away far too long ... close to sixty years.

anniversary of Horowitz's death